Enviamos GRATIS a todo el mundo.Se le enviará número de seguimiento.
👉
¿Qué incluye el set de las MotoBags?
- Dos MotoBags
- Dos maletas interiores impermeables.
- Dos placas universales para el montaje y todos los aditamientos necesarios para colocar los soportes
- Dos cerraduras específicas para las MotoBags
👉
¿ Por qué las maletas semirrígidas son mejores que las de aluminio ?
1. Son más ligeras que las cajas de aluminio
2. Son menos peligrosas que las cajas de aluminio en caso de una caída (¡¡¡no te romperían una pierna o peor!!)
3. 100% impermeable (las cajas de aluminio NO
)
Pueden cerrarse con seguro (al igual que las cajas de aluminio)
5. No se dañan después de una caída ( las cajas de aluminio pueden dañarse después de una caída)
👉
¿ Por qué las Maletas Semirrígidas son mejores que las Maletas Suaves ?
1. Porque puedes cerrarlas con seguro
2. Porque mantienen su atractiva forma
3. Porque puedes colocar mucho peso dentro de ellas, tal cual como en las cajas de aluminio (probadas con una carga de 50kg en ambos lados)
Las MotoBags pueden comprimirse cuando no se usan. Solo tienes que quitar el tablón que se muestra arriba.
Las MotoBags incluyen un sistema de seguridad que las mantiene protegidas de ladrones oportunistas. (incluidas en el precio).
Puedes agregar tantos accesorios de tu preferencia como quieras y no te cuesta extra. Gracias al sistema MOLLE:
Y por supuesto, puedes agregar los parches de Velcro de preferencia en la parte delantera de las MotoBags:
Agrégale un toque personal a tus MotoBags con las Correas de Colores (vendidas por separado). Disponibles en Azul, Rojo y Naranja (clic aquí).
👉
Medidas
38 Litros
Largo: 44CM/17.32"
Alto: 40CM/15.74"
Ancho: 24CM/9.44"
Peso: 6KG/13.22LB

31 Litros
Largo: 44CM/17.32"
Altura: 40CM/15.74"
Ancho: 20CM/7.87"
Peso: 5.7KG/12.56LB
👉
Sistemas de Soportes
Para motocicletas con soportes desalineados debidos al tubo de escape
BMW R1250 GS/GSA, BMW R1200GS/GSA, BMW F850GS/GSA, BMW F800GS/GSA, BMW F750GS, BMW F700GS, KTM 1290 Super Adventure, KTM 1190, KTM 1090, Honda Africa Twin, Triumph Tiger Explorer 800, Yamaha XT1200Z Super Ténéré
recomendamos los siguientes juegos de MotoBags:
31+38 litros (Puede agregar capacidad adicional con nuestras MiniBags)
Para R 1200/1250 GS and GSA, recomendamos: 31+38L
Esta configuración permiten una motocicleta simétrica:
Sistema de Montaje de las MotoBags
👉
¿Qué soportes son compatibles ?
BMW OEM soportes (Vario - No compatible!)
1250GS / 1250GSA
1200GS / 1200GSA
F850GS / F850GSA
F800GS / F800GSA (adaptador de soporte necesario)
F750GS
KTM OEM soportes
Triumph Tiger 900 OEM soportes
Yamaha Ténéré 700 OEM soportes
Hepco Becker
Outback Motortek
Wolfman
Touratech
Givi (Trekker - si, Monokey - solo si se ajusta - pregúntanos "Cómo?")
SW-Motech (EVO - si, PRO y SLC - No compatible!)
HappyTrail
Metal Mule
Bumot
GIVI Monokey (solo es necesario desatornillar las piezas que sobresalen. Tarda 5 minutos)
Jesse (MotoBags estará inclinado y paralelo a los soportes Jesse)
Por favor escríbenos si cuentas con soportes que no se ven reflejados aquí y te ayudaremos!
👉
¿ Qué soportes vende Lone Rider ?
Vendemos soportes para estas motos :
BMW R1250 GS/GSA, BMW R1200GS/GSA, BMW F800GS/GSA, BMW F850GS/GSA, BMW F750GS, BMW F700GS, KTM 1290 Super Adventure, Honda Africa Twin, Triumph Tiger Explorer 800, Yamaha XT1200Z Super Ténéré, KTM 1190, KTM 1090
Compra tus Soportes Lone Rider aquí: https://lonerider-motorcycle.es/products/lone-rider-racks
👉
El material usado en las MotoBags:
Hypalon.
Hypalon® es un elastómero de gran rendimiento utilizado en productos resistentes como balsas, trajes de contención y equipos para exteriores. El material es un caucho sintético de polietileno (CSPE) extremadamente versátil (CSM) conocido por su resistencia a productos químicos, temperaturas extremas y luz ultravioleta.
El Hypalon se usa en barcos de rafting, para los cuales es muy común golpear rocas a alta velocidad.
El mejor en el mundo.
Y usamos Dyneema y Kevlar para la costura.
De nuevo, las más fuertes en el mundo.
Reseñas
"Afirman que fabricaron las mejores maletas suaves y creo que lo han hecho. Realmente son resistentes, fáciles de instalar y funcionales", dice nuestro cliente Mike Stahl en el foro de advrider.
👉
Lo que los Motoristas dicen de la MotoBags: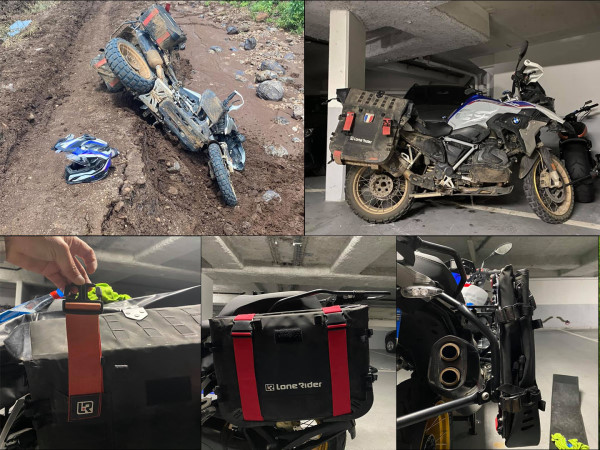 Eric Chauvin
¡Mi experiencia con las maletas de Lone rider!
Después de 8000 kilómetros recorridos por Kenia y Etiopía en un viaje organizado por www.monsieurpingouin.com, las maletas fueron sometidas a una prueba rigurosa.
Me caí docenas de veces, la moto quedó suspendida por un barranco ... ¡Imagina el resultado si se hubiera tratado de una maleta rígida!
No hubo daños significativos, solo una esquina de goma dañada.
De regreso en Francia, me comuniqué con Lone Rider para averiguar si esa esquina se podía reemplazar, todas las piezas separables están disponibles para respuesto.
Así que ordené la esquina y aproveché la oportunidad para cambiar las correas que habían perdido su color por el sol.
Pedido rápido, precio muy adecuado ... mis maletas están como nuevas.
Recomiendo encarecidamente estos productos por ser sólidos, por su diseño y especialmente por ser prácticos.
Harry Hofsink
"Realmente me gustan estas maletas, reciben muchas miradas. Se han comportado perfectamente hasta lo más arriba de América del Norte (Tuktoyaktuk) hasta lo más bajo de México. En mayo de este año, haremos Europa y alrededor del Mar Báltico."
Hans Den Ouden
"Excelente maletas¡En la playa!"
Hadi Karim
"Ya instalé mi maleta PRADA 😋"
Zsolt Somogyi
"¡Baréin allá vamos! Visita de cortesía a los motoristas de Baréin"
Is Ma Il
"Maletas incríbles. Gracias Lone Rider 😁"
Jerry_g_w
"Las maletas #lonerider son maravillosas, las vi en internet el año pasado, las ordené e hice que me las enviaran a Australia ¡Las he estado usando desde entonces y me encantan!"
Mike Stahl
"De vuelta de mi viaje. Viajamos 5.500 kilómetros a través de todo tipo de terrenos y condiciones climáticas. Los Motobags fueron absolutamente excelentes.
En primer lugar, fueron muy fáciles de empacar especialmente con las bolsas de malla que se incluyeron. La maletas eran perfectas para mi Africa Twin. Pude llevar todo lo que necesitaba (ropa, herramientas, comida y equipo de campamento) y aun así manteniendo el peso bajo y el equilibrio de la moto.
Las bolsas secas internas fueron excelentes y manteniendo fuera la basura, el polvo y la lluvia que hemos experimentado.
La instalación fue fácil y resistieron más de 1.000 kilómetros de terreno accidentado, golpes y sacudidas.
No puedo decir lo mismo de las maletas de uno de mis acompañantes cuyo hardware de montaje se dañó completamente.
¡Las Motobags son duras! Cada detalle de estas bolsas ha sido bien pensado y diseñado.

Gracias por su comunicación y servicio y por enviarme las maletas para servirles como tester. Me gustan mucho, ¡me las quedo! :)

Aquí hay algunas fotos del viaje.
Gracias,
Mike"
Jose Luis del Castillo
"Debo felicitaros por el producto. Hice un viaje de 7.000 km por el norte de España, desde Barcelona hasta Finisterre, cruzando los Pirineos, Aragón, Navarra, País Vasco, Asturias y Galicia.
Por todo tipo de terreno y clima.
Las MotoBags, aguantaron caídas, lluvia, granizo, sol, polvo, piedras, barro, de todo.

Todo perfecto, el interior seco en todo momento, incluso en los vadeos de ríos.
Pero lo mas importante, en un despiste me atrape la pierna entre una piedra y la Motobags que al ser flexible me libré de una muy posible lesión si hubiera sido maleta de aluminio.
Debo destacar las bolsas interiores muy practicas y excelente impermeabilidad.


En resumen, ENHORA BUENA POR LAS MOTOBAGS!!!!


Adjunto alguna de las fotos del viaje.
Saludos

Jose Luis"
Marc Bastin
"Durante mi reciente viaje en motocicleta en el Reino Unido, tuve un desafortunado accidente ... Choqué con un automóvil que se movía en la dirección opuesta a la que yo estaba.
¿Lo fortuito en esto? Golpeé el auto con mi MotoBag del lado derecho y ¡me salvó la vida! ¡Absorbió la mayor parte del impacto! ¡Salvándome de serios daños físicos!
Terminé en el suelo, completamente seguro, sin lesiones.
El automóvil no sufrió casi ningún daño; solo algunos rasguños negros en su pintura blanca y en su faro.


Si hubiera chocado el auto con una maleta de aluminio, creo que el auto habría recibido mucho más daño, y creo que el impacto habría sido mucho más violento, probablemente lastimandome.

¡Ah, y ... la maleta en sí, ni se rasgó!

mb."
Pierre Hernikat
"Acabo de montar mis motobags, son realmente hermosas.
Luz, mucho espacio, fácil montaje y desmontaje.

Viajé durante 4 días con los MotoBags y ya 3 personas me han preguntado dónde podían comprarlas. Voy a viajar a los Alpes a mediados de agosto, aquí ya hay algunas fotos que puedes publicar.

Ten un buen día"
Freddy Ferrer
"Muchas gracias por el gran profesionalismo de su servicio.
Los motobags ya están montados, que parecen increíbles, pero prometo enviar otras fotos mejores lo más rápido posible.

Si alguien cerca de Barcelona necesita verlos para convencerse de la calidad, estoy a su disposición.

Nuevamente, gracias"
Tom Laso
"¿Ya saben sobre las MotoBags de Lone Rider? Las estoy usando y me encantan. Me gusta el hecho de que puedo plegarlas cerca de la moto cuando no las estoy usando y aun colocar dentro de ellas mi compresor de aire, tubos herramientas, agua etc."
Sashidhar A Sundaramurthy
"Estoy super emocionado. Me encantan las maletas. Se ven geniales. Las maletas parecen tan sólidas como lo anunciando. Finalmente pude ver el Hypalon. Es increíble"
Miguel Salinas
"Las maletas se adaptan bien y son muy fáciles de instalar en los soportes METAL MULE,muy sencillo Anna !!! ¡Son maletas geniales con materiales de primera calidad! No puedo esperar por los accesorios para las bolsas tan pronto como estén disponibles. Estaba preocupado con la instalación en los soportes Metal Mule, pero estoy muy sorprendido con todas las opciones de instalación disponibles ... "
Lynn Coetzee
"Manejamos a través de lluvias torrenciales. Todo nuestro equipaje se encontraba seco dentro de nuestras Maletas Lone Rider. Tan fáciles de desmontar en las paradas nocturnas."
Jean-Luc Jld
"Hola Anna and Fred,

Tuve un problema con mi motocicleta ... Estaba conduciendo por una carretera hermosa ... y tuve un pinchazo en la rueda delantera ... (se desinfló instantaneamente)
Estaba conduciendo a aproximadamente 70 mph, y con una motocicleta, no puedes salirte con la tuya ... Mi motocicleta voló por el aire, y yo también. Pude elegir entre chocar con las camionetas delante de mí o salir por el lado izquierdo de la carretera que estaba a 7 u 8 metros más abajo ... Así que, por supuesto, elegí la última opción.
Volé como 40 o 50 metros y aterricé un poco más lejos que mi motocicleta. Gracias a Dios estoy a salvo, solo mi muñeca izquierda, que me duele un poco y la rodilla derecha, pero estoy bien.

La otra parte increíble es ... los MotoBags se sostuvieron notablemente bien !!"
André Gueissaz
"Hola Fred,

Quería agradecerte por las MotoBags, ¡son geniales! Entre el 27 de julio y el 11 de agosto hice un viaje a Italia vía Viverone, Modena, Tavullia (la fortaleza de Valentino Rossi), Urbino, Canalicchio, Pisa, Recco y de regreso a Lausana en Suiza, en total 2 300 km por carreteras pequeñas , caminos de montaña, pases pedregosos y debo decir que las MotoBags han cumplido su rol a la perfección!
A pesar del calor, las carreteras llenas de baches no puedo evitar declarar que estoy encantado.
Te enviaré más fotos más tarde."
Trond Borge
"Acabo de instalar mis maletas y hasta ahora me encantan. Para un viajero frecuente que solo a veces necesita sus maletas laterales las MotoBags son simplemente geniales. Ahora puedo adelantar como siempre, pero aún tengo la opción de llevar algo si es necesario."
Chris Pope
"Las maletas han resultado excelentes, han hecho frente a la lluvia torrencial extrema en Tailandia y al calor de 47 grados. También mantuvieron mis cosas seguras durante Thingyan en Myanmar cuando se empapaban y luego eran expuestas a 40 grados de calor todos los días durante una semana. También resistieron una buena sacudida en las terribles carreteras de India y Nepal"
Hans den Oudeb
"Aquí está una foto de mi GSA con las Bags instaladas durante su primer viaje en Holanda. En verdad lucen muy bien. Mi esposa me envidia y también las quiere…
Saludos

Hans den Oudeb"
Superfunkmatic
"Son excelentes. Muy buena calidad. Buenos accesorios y muy funcionales. Me gustan mucho. Las pondré a prueba nuevamente el próximo verano en Canadá. [...] Las MotoBags son caras, pero durarán para siempre y siempre puedo cambiarlas a otra moto: su precio es casi igual al de las maletas rígidas con sus soportes."
Bart and Jess (video)
Fragmento del vídeo:

"Los fuertes materiales y diseño sostenible las hacen los mejores amigas de un viajero. Nos gusta que Lone Rider escuche a sus motoristas y mejore sus productos durante la producción.

Tambien queremos agradecer a Fred y a Lone Rider por proveer las MotoBags para nuestras motos. Creemos que son las mejores del mercado." "


> Ver vídeo completo en Facebook
Denis Thebeau
"Compré estas y en mi opinión, lo valen completamente. Muy buena calidad y materiales. 200% a prueba de agua (100% x2) con bolsas interiores impermeables. Altamente funcionales con el sistema militar Molle en los 4 lados y también son hermosas."
AZQKR-Thread on Adventure Rider
AZQKR-Thread en el foro de Adventure Rider
"Tuve que bajarme en una sección de saliente de roca el domingo pasado, montando con otras 7 personas, mientras la carretera pasaba de la tierra a una curva cerrada en la saliente que iba 25 grados vertical. Mi error, pensé que estaba en primera, pero estaba en segunda, y la moto se detuvo y se fue abajo. No, a mucha velocidad, pero la roca de lava es extremadamente afilada. Para dar a uno una idea de lo afilada que puede ser la lava sólida, mientras realizaba operaciones de SAR en las montañas, si paras tu caída con la mano, se va a abrir bastante bien si no llevas guantes. No tuve tiempo de detenerme en ningún daño en la bolsa izquierda, en el lado en el que bajé entonces, y llegué a casa después del anochecer, así que esa noche la estacioné en el garaje. A la mañana siguiente, era tiempo de lavado a presión ya que la moto estaba cubierta de barro seco / tierra de cuando me tocó cruzar por agua. Bastante feliz de informar que no resultó ni una marca en la maleta LR izquierda de 38L. Eso, en comparación con la barra de protección inferior que se raspó bastante bien y tuvo que ser retocada con un poco de pintura para que el área dañada no se oxide en el futuro. Tubo de acero HB de 5/8 "raspado / dañado, bolsa de hipalón LR ilesa."


> Leer la Entrada Completa en Adventure Rider
Justin Short
" Esto es solo para decir que he vuelto de mi viaje a través de Europa y tengo las MotoBags. Están montadas y estoy muy complacido con ellas, se ven excelentes y las bolsas de cerraduras / forros funcionan muy bien para nosotros. Gracias de nuevo por todos sus esfuerzos para envíarmelas y esperamos darles una reseña más detallada. Luego toca la MotoTent."
bozmotodual16-Thread on Adventure Rider
Zsolt Somogyi
"¡De eso es de lo que hablaba! ¡Es una maleta de ensueño!"
HYLKO OOSTERLOO
"Las usé para nuestro primer viaje largo y estoy muy satisfecho con ellas.Se pueden empacar muchas cosas en ellas. Somos 2 personas viajando en Motocicletas y siempre andamos con el equipo completo para acampar. Foto (Motocicleta sin todo el equipaje) tomada en la isla de Øksnes en el norte de Noruega (Vesterålen)"
Silvio Brito
"Hace poco viajé a la Patagonia chilena y argentina y me gustaron mucho las MotoBags, me respondieron perfectamente "
Sashidhar Sundaramurthy
"Las maletas son perfectas. Esta foto fue un éxito total en Facebook. Aunque mi perro ya no cabe en ellas :)"
VADYM KOSTENKO
"Muy Sastifecho. Producto muy cool"
Mattias Grop
"Solo quiero decirles que estoy muy contento con mi tienda y mis nuevas MotoBags. La tienda es muy fácil de instalar y desmontar y la lluvia no es un ningún problema para ella. Te mantiene seco. Este año también compré las MotoBags y me gustan mucho. Fáciles de empacar y me parece perfecto que se puedan llevar las bolsas interiores contigo. Además, cuando accidentalmente dejé caer la moto, no pasó nada gracias las maletas. Si hubiera tenido cajas de aluminio, probablemente habrían terminado abolladas"
Eduardo Galaviz
"Me ha ido muy bien, pero pienso que podrían implementar un sistema de poner y quitar mas fácil, otro detalle que vi es que en viajes largos calienta mucho el escape, pero me imagino eso será con cualquier marca. Pero definitivamente las volvería a comprar"
Zane Lee
"Salí por primera vez este verano. Las fotos adjuntas son del lago Tekapo en los Alpes del Sur en Nueva Zelanda. Las Maletas funcionan bien, gracias por su ayuda."
Video: Las MotoBags en el Camino
Video: Cómo lavar tus MotoBags
Atención: Las imágenes del producto son solo para fines ilustrativos y pueden diferir del producto real. Debido a las diferencias en los monitores, los colores de los productos también pueden ser diferentes de los que se muestran en el sitio. Estas imágenes o fotos asociadas son solo de referencia y deben considerarse ilustrativas